Presents a narrative about
L U C A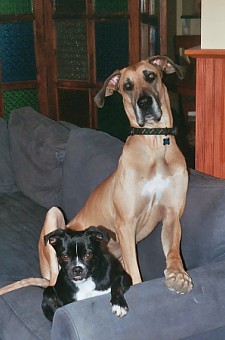 "Luca"
Mid-Atlantic Great Dane Rescue League, Inc.







Luca: A rescue dog
Male, Great Dane
Mid-Atlantic Great Dane Rescue League, Inc.

Owner: Karine

Luca found his way to us after living with a family for four years who felt they had to give him up because they had just delivered their second child and could not handle taking care of the dog anymore. After arriving at the GREAT DANE RESCUE his charm and friendliness quickly enabled him to be placed with a family that included two children. Since they had never owned a dog, he was only with them for about three months before he was returned to the rescue organization. The family said that the children were hanging on him too much and that he growled at them once they would not leave him alone. Needless to say, the family was not allowed to adopt another Dane.

Luca was not trained to walk on a leash when we first got him. He would pull us everywhere. It was quite exhausting trying to walk him, but soon we realized that if we would ground ourselves it would stop him from pulling. The classes at Greenbelt Dog Training finally taught us how to properly walk Luca and control his pulling. Now it is not a problem.

He is a great dog and we love him with all our hearts. We have found it a rewarding experience to rescue a dog and learn how to properly train a dog. One thing that we have learned from the training classes is that if a dog has any bad habits they can be reversed with persistent and proper training by the owner.