Presents a narrative about
M A G G I E M O O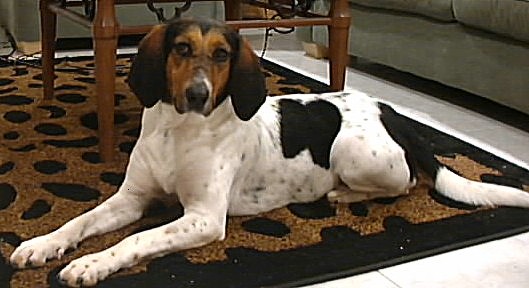 "Maggie Moo"
Washington Animal Rescue League






Owners: Lisa & Vince


Hi! My name is Maggie Moo.

I waited at the Washington Animal Rescue League for seven long months before Mommy and Daddy brought me home in July 2004. I'm not sure what took them so long, but I heard them say they met a lot of other doggies before me. They tell me I'm "special" though and that's why I got to come home!

I really like it here; they spoil me bunches, give me lots of hugs and kisses and yummy treats, and they're always telling me what a sweet and pretty girl I am. Mommy and Daddy let me take all the naps on the sofa I want, and they said I never have to go live in a shelter again. I'm happy about that, and I think they really love me!

They even took me to school at Greenbelt Dog Training so I could get more smart. Uncle Allie and Aunt Adele were really nice to me, and I learned a lot in school. Every day I get smarter!

I really like chicken and my beef marrow bones and any kind of cheese. Show me some food, and I'll show you how good I can sit!

For fun I like to take naps, chase squirrels, and take naps. I also really like playing with all my pals at the park--we have so much fun running around and wrestling! Plus that park is full of squirrels. Then I like to go home and take a nap.