Presents a narrative about
M U R P H Y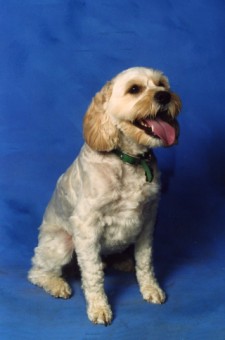 "Murphy"
Montgomery County Humane Society







Narrative for "MURPHY"
Montgomery County Humane Society


As told to Owners: Cheryl and Bill

Hi! My name is Murphy. I am a cock-a-poo (cocker spaniel and poodle mix). I came to live with my mom and dad in October of 2001. I was adopted from the Montgomery County Humane Society. I had been turned in by my previous owners for biting.

My mom and dad quickly saw my potential and enrolled me in basic training class at Greenbelt Dog Training in November. I graduated from basic training with the highest score in the class. My mom and I continued on with the Advanced class. I really enjoyed the Agility and Rally obedience training. I think my mom has plans for me to continue with the training classes at Greenbelt. We really like learning new things and perfecting the things I know now. Uncle Allie and Aunt Adele have been very good to both my mommie and me.

I am participating on the Parade Drill Team, Scentsations - Canine Freestyle team and also as a Therapy Dog. My mom and I go and visit the children at Hospital for Sick Children and Children's Hospital with the Special Therapy Dog Group from Greenbelt Dog Training. Mom and me also are certified Delta Society Therapy Dogs. Talk about training - we had to go to a six week class and then both of us have had to pass a test and be recertified every year.

We visit the children undergoing cancer treatment at NIH. One child has even written a book about our visits. I also have participated in the program R.E.A.D. - Reading with the Assistance of Dogs. Each week a child would read a book to me for 45 minutes. The nice thing is the child is improving his or her reading skills and I get all the attention. What more could a dog ask for?

I really love the therapy work I do. My mommie says I do this "fancy dance" whenever we are getting close to one of the places I visit. I really love being a part of Greenbelt Dog Training. Thanks mommie, Uncle Allie and Aunt Adele. You all are the greatest.