Presents a narrative about
Z O E Y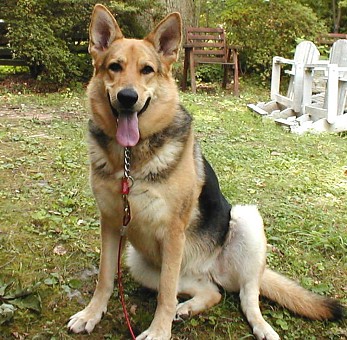 "Zoey"
German Shepherd Rescue of Maryland





Breed: German Shepherd Dog
Age: 4 years, 3 months
Sex: Female
Weight: 105 lbs.
Owners: Ronald & Sandra

We obtained Zoey from the German Shepherd Rescue of Maryland in July 2002. Zoey had belonged to a couple who decided to give her up after they had a baby. Apparently Zoey had been crated for some time before she was given up, because she had gained a lot of weight and had lost many of her people and social skills, tending to bark and lunge at people, cats, squirrels, and other dogs. We were afraid we might have a problem dog on our hands. But Zoey very quickly settled into our house and became a member of the family and as a result of a growing familiarity with our neighborhood and its occupants and the seven weeks of basic training she has received from Greenbelt Dog Training she has become a calm, well-behaved dog. We are proud to take her almost anywhere and anywhere we take her she is a big hit.

Today we are prouder than ever of Zoey: she passed the Canine Good Citizen Test . This is a comprehensive test that places a dog in ten every day situations such as greeting another dog, going to the vet or groomer, and walking through a crowd. Zoey's accomplishment is particularly impressive since she has received only basic training. We are sure that after we complete the seven-week intermediate class she will be all that we could hope for in a dog.