Presents a narrative about
J U S T I N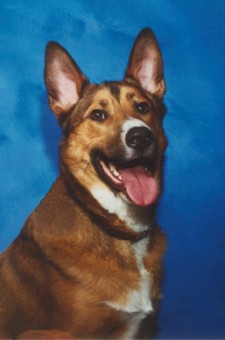 "Justin"
Last Chance Humane Rescue Group







Justin's Story
Owners: John, Beth & John, Jr.
From: Last Chance Humane Rescue Group

We adopted Justin, a shepherd/collie mix, from the Last Chance Humane Rescue Group.

Justin was picked up as a stray dog when he was around 5 months old. He was around 8 months of age when he came into our family. At first he was very shy and nervous, especially around loud noises and children.

With the help of Allie and Adele Lee of Greenbelt Dog Training, Justin has just flourished. He has completed his basic obedience training and is currently enrolled in intermediate classes. Recently, he is participating with our other dog, Molly, in the Greenbelt Dog Training Parade Drill Team.

Justin especially enjoys it when children of all ages come up to him and pet him.