Do you have a dog crazy about retrieving balls?

Want to have more fun with your dog?
<![if !vml]>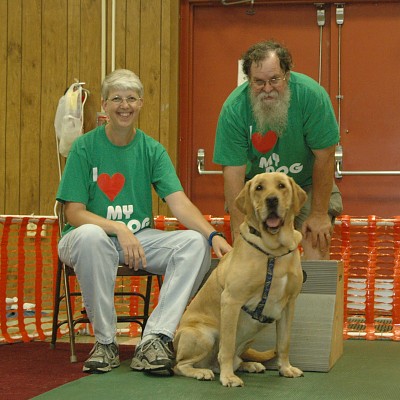 <![endif]>
Sally, "Talen" & Ed, Captain
Then you need to consider joining the fun loving flyball fanatics known as the Greenbelt Flyers, the Greenbelt Dog Training Flyball Team!

What is flyball? It's a canine team sport involving balls, running, jumping, barking and a heck of a lot of FUN! Flyball is a competitive sport, played worldwide. Teams of 4 dogs run a relay race against another team of 4 dogs. The fastest team wins. Just that simple! Oh, yes, humans are needed to help with the timing, the cheering and the setting up of equipment but the dogs do the work! They work hard, they have fun and they develop a great sense of competition! They know it's a race and they want to WIN!

At Greenbelt Dog Training we offer Beginning Flyball for those canines and their humans who want to learn how to play flyball. This training not only teaches the basics of the game, such as ball retrieval and jumping, but also works on the important skills of socialization and teamwork. Dogs must be at least one year of age, demonstrate a keen interest in balls, be currently enrolled in an Intermediate Obedience Course and attend at least two Intermediate Classes a month. Humans must love their dogs and have a strong desire to have loads of fun with their dog!

Once the dog/handler team demonstrates in Beginning Flyball a strong drive and the ability to perform the necessary flyball skills, they can move into the Competition Flyball group. The Competition Flyball group trains for tournament competition. Advanced skills are taught and the group participates in periodic scrimmages with other area teams in order to further develop the skills necessary for tournament participation.

The Greenbelt Flyers are a fairly new group, with only one tournament "under our belt" so far, however we're competitive and addicted to this crazy sport! (See the Newsbreak article from our tournament in February 2005.) We are a group of flyball loving canines that would love to have more dogs and their humans join us!

Flyball training sessions are held Tuesday evenings. For more information about participating with us contact Captain Ed.