click here



click here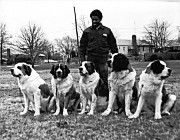 click here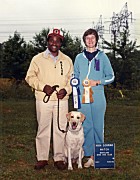 click here



click here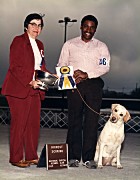 Allie W. Lee - Professional Obedience Instructor
Teaching owners how to train their own dogs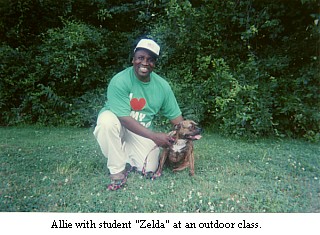 Allie Lee, Owner and Director of Greenbelt Dog Training, is a Professional Obedience Instructor who has over years teaching experience. He has trained dogs on all three levels of AKC competition (Novice, Open & Utility). Has also judges in dog obedience shows and matches. He conducts numerous dog obedience demonstrations and leads the Greenbelt Dog Training Marching Drill Team with owners and their dogs.

Most importantly "Uncle Allie" is well-known in the surrounding area for his expertise and deep concern for animal owners and their pets. He is also a pet screener for the therapy candidates, conducting over free temperament tests. Allie is an AKC Certified CGC Evaluator (Reg. no. 1558) and sponsors an AKC Canine Good Citizen (CGC) test every spring and fall as a Benefit for the Greenbelt Vol. Fire Dept.

"Uncle Allie" enjoys counseling his students continually during the week and whenever there may be a question or concern about their pet. He is never too busy to explain to new callers that proper pet care, knowledge of animal behavior and the importance of positive, humane obedience training are most important. All dogs ("God's Little Angels" as he calls them) can and do benefit from a good training program regardless of the breed, mixed breed, rescue/stray or the age of the dog.

Allie's love of animals comes from a family who had a "house full" of pets. As he was growing up, he lived with his mother, two sisters and a younger brother in a row house in DC. At one period of time, they owned two German Shepherd Dogs, six Saint Bernards, a 55 gallon fish aquarium and a rabbit named Frosty. Of course, this was a family project in a very busy but happy home.

The first dog Allie owned turned out to be a terrible disappointment and a serious problem for the family members. Even after special private training sessions and much care and attention given to the dog, the decision had to be made to remove the dog from the home. Many family members believe that even though Allie was extremely disappointed and depressed about this, he vowed to never let it happen again with another dog. He was heard to have said, "I will learn to train my own dog."

Perhaps Allie's determination to learn to train his own dog was because of the admiration he had for his Grandmotherís boxer which his Grandmother won in a poker game. He continues to tell his students stories about how well trained and obedient this dog was. It was amazing how "Butch" interacted with all the children in the neighborhood and responded immediately to commands from his Grandmother. He remembered that since his Grandmother was able to teach her own dog, he would learn how to do this as well.

When the new dogs came one by one to live with his family, Allie joined a local training association and did as he was taught: how to train his own dog. He continued to work with and train all the other dogs that lived in the household. In fact, he was at the training facility so much of the time that the trainers stated they would put a cot there for him to also sleep there.

Allie continued to enjoy training his dogs and was known as "The guy with all the Saints." A smile comes across his face when he reflects on the many trips to the AKC obedience shows and matches in a little Ford Falcon car loaded with family and Saint Bernard dogs. He was able to get titles on all of the dogs and perhaps still holds the title of an individual amateur handler getting the most titles (six titles on five dogs which means 18 qualifying scores) in the shortest amount of time (a nine-month period).

Even when Allie was a college student, training his dogs became an important part of his life. He was asked to become an Assistant Obedience Instructor in basic training classes for the association where he trained his dogs. Later he became a Veteran Instructor teaching many handlers over the years to train their own dogs in basic and advance classes. After much coaching from family members, he formed his own dog training company where he continued to expand his knowledge to include other pet social activities for his students and their dogs.

"Uncle Allie" believes that TRAINING makes even a GOOD dog BETTER.